Total Air Masters specializes in the replacement of residential ac systems.
HOME COOLING
Maintain, Upgrade, Repair, or Replace Your Cooling System
INDOOR AIR QUALITY
Contact us today for a quote to improve your comfort, while removing dust, mold spores, bacteria and viruses! Clean the air you and your family breathes.
AC TUNE UP
Get an AC Tune up and prevent costly repairs. Our technicians will complete our 26 point air conditioning inspection and tune up.
Our hvac services include repairs, maintenance, and installation of air conditioning systems, evaporator coils, electric heaters and gas furnaces, and more.
There is nothing worse than having your air conditioner not cooling in the middle of our scorching hot Texas summer! TAM A/C & Heating is here to help and can service or repair most brands of cooling & heating systems.
With more than 15 years of experience, we are your answer for professional air conditioning and heating services in Katy, Richmond, Sugar Land, Cypress and throughout Fort Bend County. We provide same-day service, 24 hrs a day / 7 days a week. We specialize in residential AC repair, maintenance and installations and can help keep your air conditioning system running at full capacity. Your total comfort and satisfaction are our highest priorities.
Whatever AC repair you need our factory trained HVAC contractors will provide reliable, fast and high quality service!
See Our Reviews From Google
Great service from a great guy. Engel Morales was professional, timely and knew exactly how to fix my dishwasher problem. He was friendly and told me how to troubleshoot if any issues. He was quick to respond messages and would highly recommend him. Thank you for a job well done
Sakina Chiba


Jul 30, 2019
Oscar came to help us out this Sunday morning and I'm so glad he did. He was extremely knowledgeable and thorough and walked us through all of our options. He was very helpful and I had an all around pleasant experience. I will definitely continue to go to him with any AC problems in the future and recommend this company to friends and neighbors.
Taylor Jett


Jan 14, 2020
Oscar came out last Summer and was polite, courteous and honest about my A/Cs condition. He answered all my questions and explained things and went through the options of what could be done. He got it running for a fair price.
E Ze


Nov 23, 2022
Read the posts and learn more about your home and commercial ac system.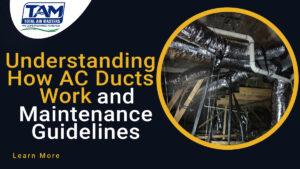 Blog
Air conditioning (AC) ducts are an essential part of a modern HVAC (Heating, Ventilation, and Air Conditioning) system, responsible for distributing cool or warm air throughout a building. Understanding how these ducts work and knowing when and how often to clean or replace them is crucial for
Read More »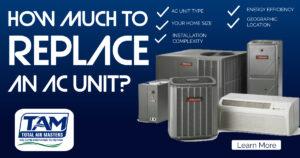 Blog
When considering AC unit replacement, several factors come into play, impacting the cost. At Total Air Masters, we understand the importance of transparency, so let's delve into what influences the expenses associated with AC unit replacement: AC Unit Type When you reach out to Total Air Masters,
Read More »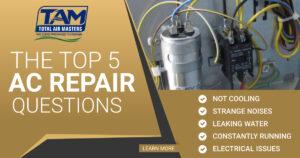 Blog
Home air conditioning systems play a vital role in maintaining a comfortable indoor environment, especially during the hot summer months. However, like any complex machinery, AC units can encounter problems and require repair. Understanding common AC issues and their solutions can help homeowners troubleshoot and address these
Read More »
Family Owned & Operated A/C & Heating Company
TAM A/C & Heating has over 40 years experience repairing and replacing air conditioning units in Houston, Katy, Sugar Land, Richmond and other communities in South Texas.