Expert Indoor Air Quality Services
TAM A/C & Heating specializes in residential indoor air quality services for homes in Katy, Sugar Land, Missouri City, Richmond, Cypress and Greater Houston.
Improve Your Whole Home Indoor Air Quality
How is the air quality in your home? According to the EPA, indoor air quality "refers to the air quality as it relates to the health and comfort of occupants". Research shows that the air quality in most homes is actually worse than the air quality outdoors. Indoor air pollutants like smoke, dust, pet dander contribute to be air quality. Poor air quality also creates an environment for viruses and bacteria to spread and grow. TAM A/C & Heating installs equipment to dramatically improve your indoor air quality. Our solutions will neutralize household odors, kill mold, bacteria and viruses.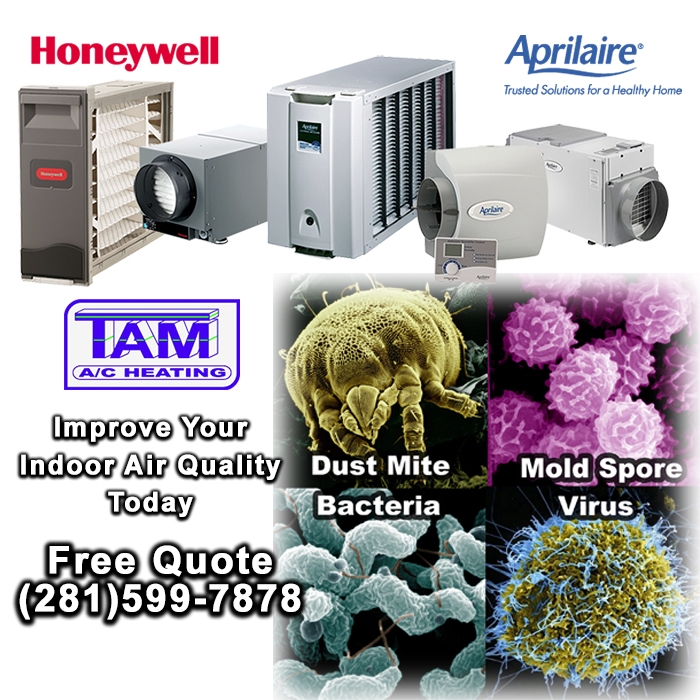 Contact us today for quote to improve your comfort, while removing dust, mold spores, bacteria and viruses!  Clean the air you and your family breathes.  Get A Quote.
Whole Home Indoor Air Quality Solutions
Air Purifier & UV Lights
Do you have portable air cleaners in several rooms?  Does your ductwork require frequent cleaning?  Do you have allergies or pets in the home?  Answering yes to any of these indicates your home could benefit from whole home air cleaning and purification.
We'll install a whole home air purifier, and ultra violet light beams that will not only clean and disinfect the indoor air, it will kill mold, bacteria and viruses.  Finally, it deodorizes the air.
Ventilation
Does your home have excessive dust and lingering cooking odors?  An improvement in ventilation my be necessary.  We can include it in new systems and retrofit for existing ac systems.
Whether you need heat energy recovery or a fresh air supply, our whole home ventilation is the answer.
Dehumidification
How is the humidity in your home?  Are you sleeping comfortably?  Do you see condensation on walls and windows?  Are you using portable dehumidifiers?
Our whole-house dehumidification systems  will maintain proper humidity levels in the home. Lower humidity levels feel more comfortable, and can help safeguard against problems from excess moisture in the home such as mold, mildew, warped wood, peeling of paint, or musty odors.
Humidification
If your home as wood furnishings and flooring, art and even babies or elderly, you may benefit from whole home dehumidification.
Our systems include steam, fan-powered and bypass models, as well as quality service replacement parts like the inline scale and sediment filter and replacement pads.
Quick note to let Oscar and his team know that we couldn't have been happier with the service that we received earlier this year on our 2 AC units. Professional technician visited our home with appropriate PPE and completely fixed our AC problem for what I considered a very reasonable price. Looking forward to working with them again when airscrubbers are available. Thank you!
E Smith


Oct 15, 2020
I could not be happier with the service I received from a great group of people. I got a new heating unit and all my air ducts replaced. My neighbor was so impressed with the work, he got A/C, heating and air ducts replaced for a great price he said. This is really a unique company to deal with.
Kenneth Mackey


Jul 29, 2019
I was really surprised when Oscar the tech explained the process that the air cleaner went through I was sold and now l sleep so much better.Thanks for the help.
Spencer Fields


Dec 10, 2020
We Can Upgrade Any AC Unit To Improve The Indoor Air Quality