Expert Indoor Air Quality Services
TAM A/C & Heating specializes in residential indoor air quality services for homes in Katy, Sugar Land, Missouri City, Richmond, Cypress and Greater Houston.
Improve Your Whole Home Indoor Air Quality
How is the air quality in your home? According to the EPA, indoor air quality "refers to the air quality as it relates to the health and comfort of occupants". Research shows that the air quality in most homes is actually worse than the air quality outdoors. Indoor air pollutants like smoke, dust, pet dander contribute to be air quality. Poor air quality also creates an environment for viruses and bacteria to spread and grow. TAM A/C & Heating installs equipment to dramatically improve your indoor air quality. Our solutions will neutralize household odors, kill mold, bacteria and viruses.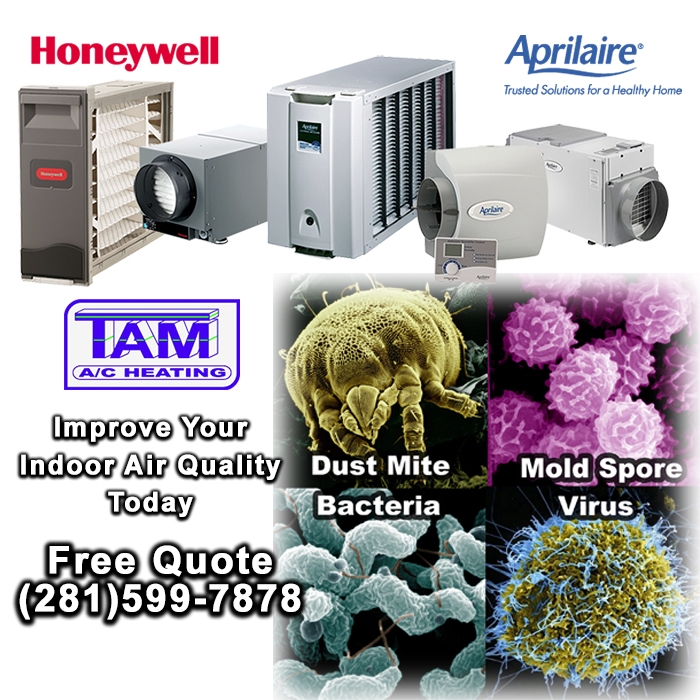 Contact us today for quote to improve your comfort, while removing dust, mold spores, bacteria and viruses!  Clean the air you and your family breathes.  Get A Quote.
Whole Home Indoor Air Quality Solutions
Air Purifier & UV Lights
Do you have portable air cleaners in several rooms?  Does your ductwork require frequent cleaning?  Do you have allergies or pets in the home?  Answering yes to any of these indicates your home could benefit from whole home air cleaning and purification.
We'll install a whole home air purifier, and ultra violet light beams that will not only clean and disinfect the indoor air, it will kill mold, bacteria and viruses.  Finally, it deodorizes the air.
Ventilation
Does your home have excessive dust and lingering cooking odors?  An improvement in ventilation my be necessary.  We can include it in new systems and retrofit for existing ac systems.
Whether you need heat energy recovery or a fresh air supply, our whole home ventilation is the answer.
Dehumidification
How is the humidity in your home?  Are you sleeping comfortably?  Do you see condensation on walls and windows?  Are you using portable dehumidifiers?
Our whole-house dehumidification systems  will maintain proper humidity levels in the home. Lower humidity levels feel more comfortable, and can help safeguard against problems from excess moisture in the home such as mold, mildew, warped wood, peeling of paint, or musty odors.
Humidification
If your home as wood furnishings and flooring, art and even babies or elderly, you may benefit from whole home dehumidification.
Our systems include steam, fan-powered and bypass models, as well as quality service replacement parts like the inline scale and sediment filter and replacement pads.
We had an emergency situation with our HVAC & they came out to diagnose the problem within hours. We had called around and no one else was available. Being new homeowners & expecting a baby we were very stressed. Luckily we found TAM, they were amazing. Knowledgeable, professional, friendly. If you are looking for a legit HVAC company highly reccomend, they also have very fair prices and I believe they offer financing if you need. Give them a call!
Lexy Garcia


May 17, 2022
Oscar was very helpful I highly recommend them to anyone very good prices they have great units available can come on weekends! They had the best prices out of 10 companies they do fix the duck work 100% airflow with no leaking air if you ever need ac service or a new unit definitely reach out to them.
wayne walger


Sep 11, 2021
Oscar and everyone at TAM is very professional, responsive, honest, and have wonderful customer service. We had a new unit installed last summer but the customer service didn't end there. I receive monthly emails with tips and videos on how to maintain the system, and email reminders of when a tune up is due! I highly recommend this company!
Amy Farid


May 20, 2020
We Can Upgrade Any AC Unit To Improve The Indoor Air Quality