Expert AC Replacement Services
TAM A/C & Heating specializes in residential ac replacement services for homes in Katy, Sugar Land, Missouri City, Richmond, Cypress, Fort Bend County, and Houston.
Replace Your R-22 AC Unit With A new R410a AC System
Eventually, every Houston resident will find themselves needing an AC replacement. Replacing your old air conditioning and heating system may not be as expensive as you think. It actually will save you money in the long run because your new unit will consume less electricity throughout the year and will require fewer repairs.  TAM A/C & Heat specializes in the installation of
high efficiency cooling
& heating systems for your home. Our AC replacement technicians will make sure you understand all of your options involved in replacing your old AC system. We will advise you on the most energy efficient equipment that best fits your needs and your budget.
Your AC replacement cost depends on many different factors, including:
The size of the AC system. Have a larger home? You'll likely need a larger AC (Acs are sized in tonnage or "BTUs"). The larger the AC, the more the system will cost.
The efficiency of the AC system. The higher the SEER of your AC system, the more efficient it is. Higher-SEER system cost more upfront but provide lower monthly energy bills.
The difficulty of the installation. If your AC needs to be installed in a hard-to-reach area, the price of the installation will increase due to increased time and materials.
AC Make and model. Some AC models are more advanced (and more expensive) than others. For example, an air conditioner with variable-speed technology will cost more than a single-speed AC.
Get your AC replaced in 3 simple steps
Free consultation. We'll meet at the scheduled time your home to determine what kind and size air conditioner fits your needs best and give you installation options with a fair upfront price quote.
Installing the AC (Starting at $98 per month). Once you choose the air conditioner that fits your needs and budget, your installation team will get to work. They'll work diligently to install your system right the first time—saving you time and money in the long run.
10-year labor warranty. We back up our installation work with a solid 10-year warranty. If a problem arises due to our installation work within that time, we'll cover the cost of labor to fix it.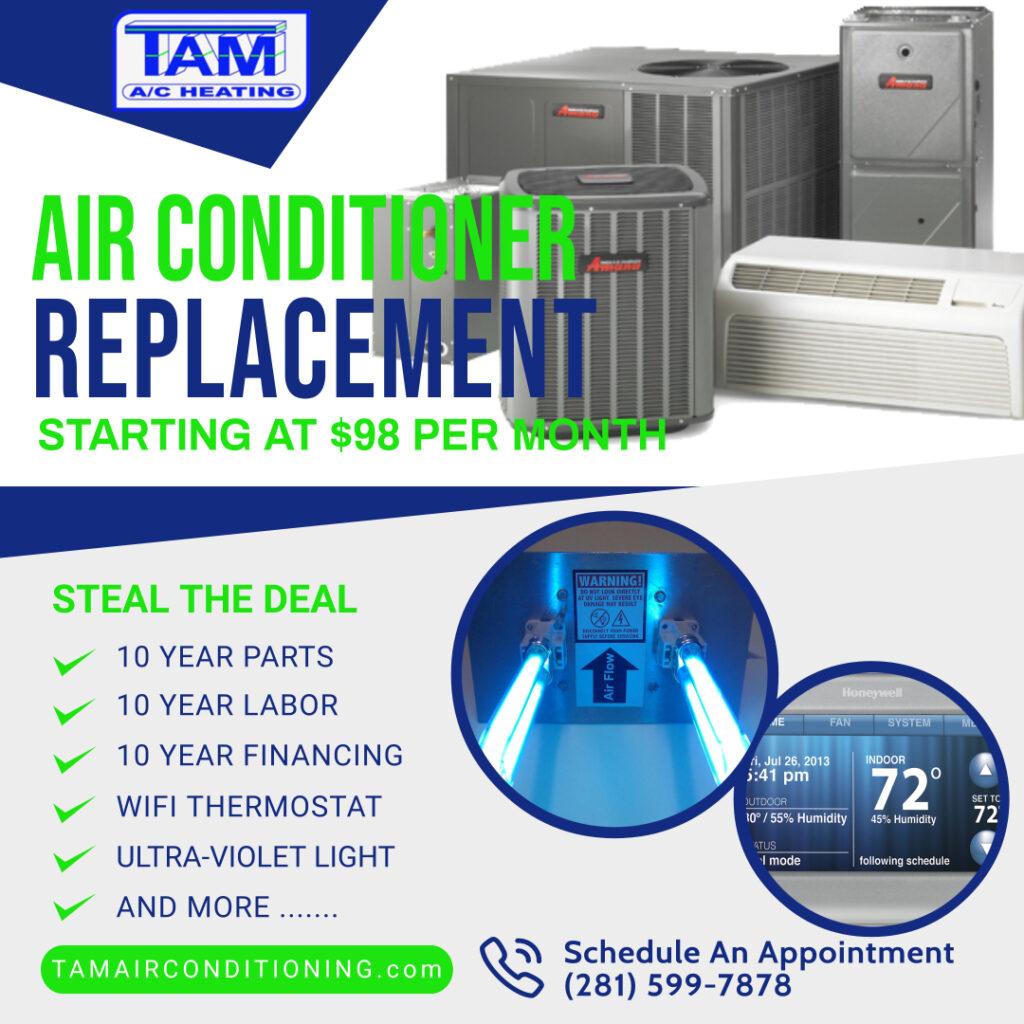 TAM is so wonderful. They are on time and always call when they are on the way. Professional every step of the way. I love that I always get the same technician. Oscar. He knows me, my system, my husband and my lil one. It feels like you are dealing with family. Honest and kind. They will go out of their way to help you understand your system. Excellent work. We are a young family in our first home and on a budget, TAM is priced right for us. My favorite aspect of TAM and Oscar is that I feel like I'm talking to a friend. I can't reccomend more highly.
Brianna Vesper


Feb 11, 2022
Oscar is simply the best! A life saver in this heat. He works miracles and is extremely fair. I highly recommend him.
Jennifer Oswald


May 17, 2022
Fast, friendly, KNOWLEDGABLE service. Would highly recommend.
Rodrick


Jul 11, 2021